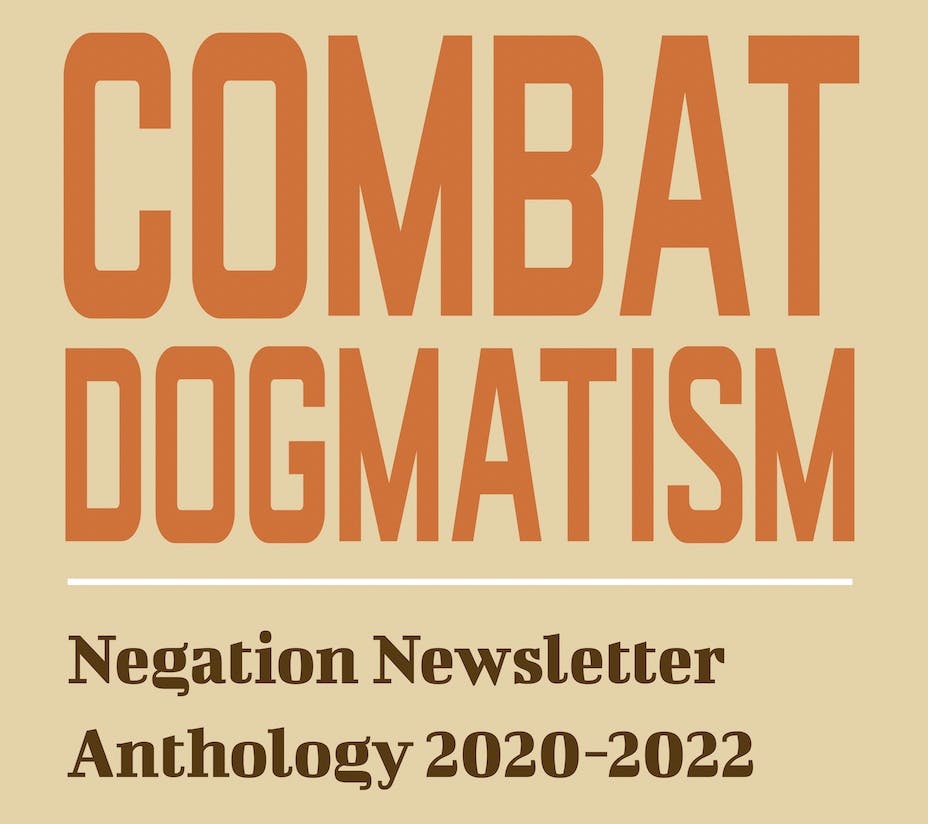 Combat Dogmatism is available both digitally and in print.
Editorial Introduction
This collection of short writings is composed of selections from Negation Magazine's monthly Patreon newsletters. The premise of the newsletters is simple: the Negation editorial collective agrees on a theme to write on every month (art, heat, anger, defeat, etc.), and members volunteer to write a short contribution related to said theme. These writings, therefore, have been fairly private, written in the context of being shown only to a small audience of readers and fellow writers. They are much more casual in tone, more experimental, and a little more "loosey-goosey," compared to the work published on the Negation Magazine website.
The newsletters serve multiple functions. In one sense, they are a reward to our most dedicated supporters, who get a chance to read exclusive pieces of writing from those involved in the Negation project. In another sense, they are practice, an opportunity for the Negation editorial collective to keep our writing senses sharp. In yet another sense, they are a forum where the Negation editorial collective is able to share and develop their thoughts together with other dedicated communists. It is through multiple polemical discussions on the party-from through the newsletters that The Specter of The Party, Negation Magazine's dossier on the party-form, came to be, for example. 
The pieces in this collection were hand-picked by each contributor as representative of some of their best newsletter contributions thus far. Each section of this collection, divided by contributor, is accompanied by a short introduction by each contributor on the content of their selected pieces and what these pieces mean to them. These introductions give the contributors a chance to reflect on the motivating factors behind their newsletter entries and changes in their thought over time. 
While these pieces have indeed been more casual and written for a more private audience, this does not necessarily mean they have been less rigorous. As an editorial collective, we believe that the intellectual work done in these newsletters should not be entirely squandered or hidden away. We do not want to gatekeep this work, so we have decided to gather a selection of our newsletter entries for dissemination to a wider audience. We hope that you appreciate them despite their more humble stature.